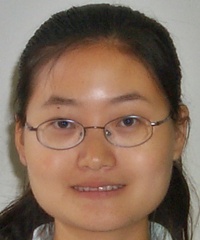 Position: Postdoc, University of Chicago
Thesis: Mathematical Problems Arising When Connecting Kinetic to Fluid Regimes
Advisor: Charles D. Levermore

What is your current position? What do you enjoy about it?
I am currently a Dickson Instructor at the Math department of the University of Chicago. The best things about this position are threefold: first of all, I have the chance to work with top experts in analysis and PDE; Second, it is a three-year position so I don't have to rush too much to prepare for the next job hunt. This means I can work on some problems that really take time; Third, the teaching load is not heavy and sometimes I have really good students that makes teaching enjoyable.
What are your favorite memories of your graduate school experience?
There are many happy memories of my graduate life. The first thing that comes to my mind is the morning when I was lying in bed and thinking leisurely about the problem I was working on. All of a sudden I got an idea about how to resolve the essential difficulty. That was really exciting. This kind of moment happened again later but that was the first problem I was working on. That experience is particularly memorable.
Other things include every time I understand something that has puzzled me for a long time, and every time I see something new and interesting.
If non-academic things are allowed, then they also include every time I get up early enough to see the sunrise, that afternoon when I learned how to solve Sudoku, and that moment when I completed every quest of "Need for Speed 4" with a gold medal.
What do you think the best parts of AMSC are?
I like the flexibility of AMSC program. Students are encouraged to learn something outside of the math department. When I was a student I chose two courses in mechanical engineering. This helps me to see the way how non-mathematicians think about problems. I definitely want to say that Alverda is one of the best parts of AMSC. She is very helpful and super sweet.
What advice would you give to current students?
The following things are pretty much what I wish I had done when I was a student.
First of all, hard work is necessary for doing math. I don't know how geniuses work but for most people, there is no shortcut. Second, although we are labeled as applied mathematicians, learning some pure math will be a good thing. This helps to broaden one's view and appreciate different flavors of math. Third, it is better to start working on problems as soon as possible. I think working on problems helps us to learn quickly and better understand what we have learned.
Story posted 8/20/10