Graduate Student Committee of AMSC, MATH, & STAT
Current Members, 2023-2024
To contact the committee, please email:
Victoria Whitley
AMSC Program
Committee Chair and Social & Seminar Co-Chair
whitleyv@
Vasanth Pidaparthy
Math Program
Social & Seminar Co-Chair
pvasanth@

Shashank Sule
AMSC Program
Treasurer & Professional Society Lead

ssule25@
Michael Rozowski
AMSC Program
AMSC Program Student Liaison
mrozowsk@
Keith Mills
Math Program
MATH Program Student Liaison
kmills96@

Amandeep Chanda
Stat Program
STAT Program Student Liaison

achanda@

Brandon Kolstoe
Math Program
GSG Representative

bkolstoe@
The GSCAMS is a non-profit educational organization with the following goals and purposes:
To voice student concerns to the administration of the Graduate School, administration of the Department of Mathematics, Graduate Council, and the AMSC Graduate Committee;
To voice concerns of the Graduate Council, AMSC Graduate Committee, and the program directors to the AMSC, MATH, and STAT students;
To represent AMSC, MATH, and STAT students in the Graduate Student Government (GSG);
To liaise between AMSC, MATH, and STAT students and the UMD Graduate Labor Union;
To promote peer mentoring, social interaction, group study, and professional development, and skill development amongst AMSC, MATH, and STAT students
Student Feedback
The Program Student Liaisons in GSCAMS have monthly meetings with the MATH/STAT/AMSC Program Managers about graduate student issues. Please submit any graduate student feedback here to the student liaisons.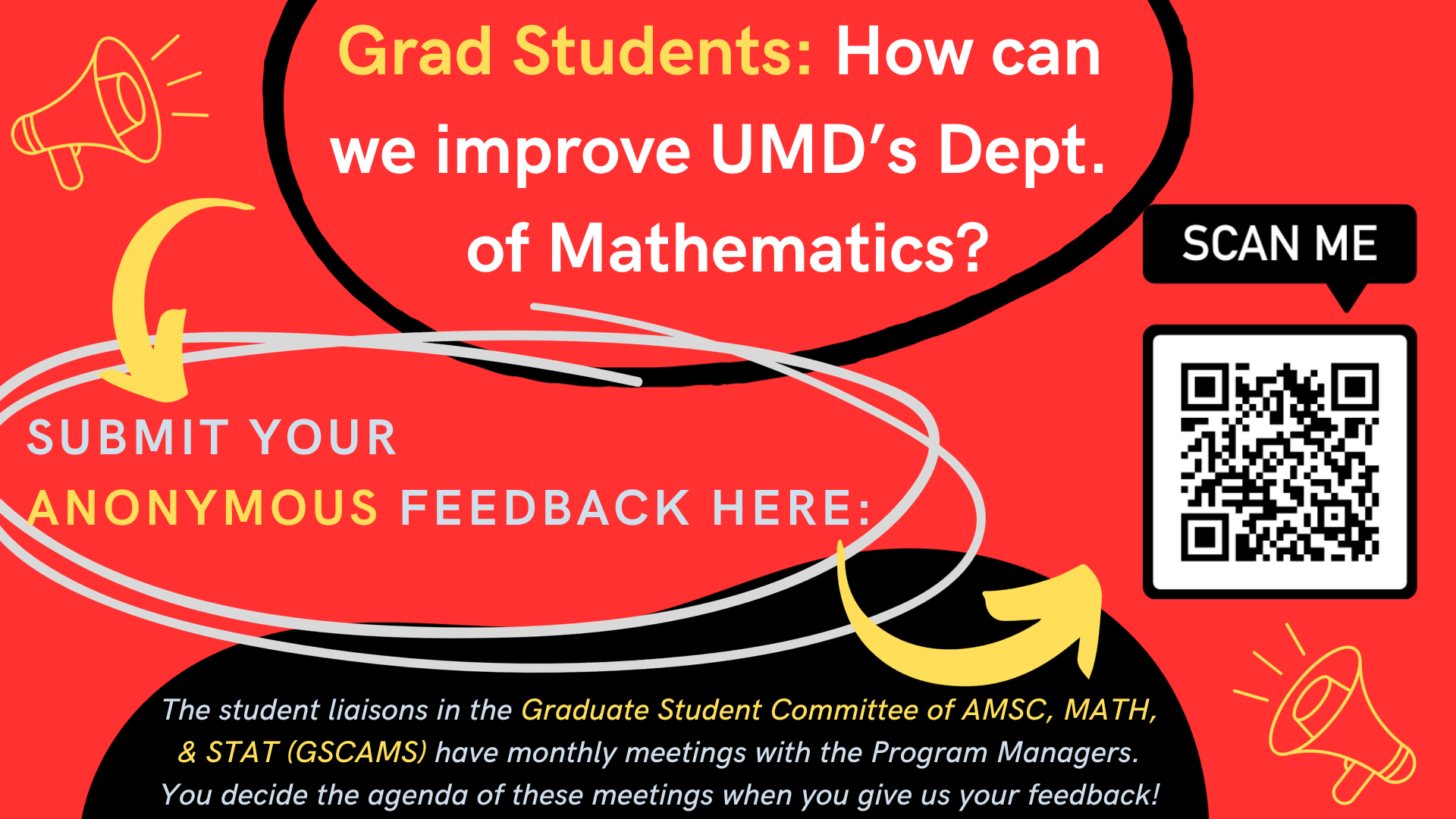 Joint AMSC, MATH and STAT (JAMS) Student Seminar
Organizers:
Vasanth Pidaparthy (
), Victoria Whitley (
), and the Graduate Student Committee (GSCAMS) (
)
When:
Wednesdays @ 4 - 5PM
Where:
Kirwan Hall MTH 1311
Description:
The goal of this student seminar is to provide elementary introductions to a diverse array of mathematical topics in the style of the popular "What is ...?" series, prominantly featured in the AMS notices.
Constitution
The GSCAMS Constitution was approved by the MATH, STAT, and AMSC Students in Fall 2023. It is available here.
Funding
GSCAMS is a registered student group on campus and eligible to apply for funding for its activities at Graduate Student Government. Please click here to see funding related issues.
Previous Membership
2022-2023 Membership
Victoria Whitley, President
AlFahad AlQadhi
Ethan Dudley
Michael Rozowski
Ran Tao
2021-2022 Membership
Kayla Davie, Co-President
Luke Evans, Co-President
Stephanie Allen, Treasurer
Stephen Sorokanich
Brooke Herzog
2020-2021 Membership
Kayla Davie, President
Luke Evans, Treasurer
Aquia Richburg
Stephen Sorokanich
Anna Sotnikova
Cem Unsal
2019-2020 Membership
Brandon Alexander, President
Kayla Davie, Treasurer
Duncan McElfresh
Luke Evans, AMSC Seminar Co-organizer
Aquia Richburg
Sarah Burnett
2018-2019 Membership
Danielle Middlebrooks, President
Sarah Burnett, Treasurer
Brandon Alexander, Seminar Coordinator 1
Cara Peters, Seminar Coordinator 2
Kayla Davie, Social Coordinator 1
Duncan McElfresh, Social Coordinator 2
2017-2018 Membership
Christiana Sabett, President
Kilian Cooley, Treasurer
Brandon Alexander, Seminar Coordinator
Asia Wyatt, Social Coordinator 1
Tengfei Su, Social Coordinator 2
Duncan McElfresh, GSG Representative
2016-2017 Membership
Dana Botesteanu, President
Matthew Whiteway, Treasurer
Kilian Cooley, Seminar Coordinator 1
Franck Ndjakou Njeunje, Seminar Coordinator 2
Franck Ndjakou Njeunje, Social Coordinator 1
Asia Wyatt, Social Coordinator 2
Duncan McElfresh, GSG Representative
2015-2016 Membership
Dana Botesteanu, President
Dimitris Ntogkas, Vice President
Matthew Whiteway, Treasurer
Asia Wyatt, Seminar Coordinator 1
Alex Estes, Seminar Coordinator 1
Chae Clark
2014-2015 Membership
Stefan Doboszczak, President
Dana Botesteanu
Chae Clark
Dave Darmon
Virginia Forstall
Stephanie Young
2013-2014 Membership
Tyler Drombosky, President
Stefan Doboszczak
Virginia Forstall, SIAM Representative
Xuan Liu
Catherine Schwartz
2012-2013 Membership
Alex Cloninger, President
Victoria Taroudaki, Vice President
Virginia Forstall, Treasurer
Karamatou Yacoubou Djima, Secretary
Tyler Drombosky, Seminar Coordinator 1
Hisham Talukder, Seminar Coordinator 2
2011-2012 Membership
Amanda Galante, President
Shelby Wilson, Vice President
Anne Jorstad, GSG Representative
Alex Cloninger, Treasurer
Hisham Talukder, Secretary
2010-2011 Membership
Amanda Galante, President
Anne Jorstad, GSG Representative
Karl Schmitt, Treasurer
David Shaw, Secretary
Shelby Wilson, Webmaster
2009-2010 Membership
Lucas Vaczlavik, President
Amanda Galante
Anne Jorstad, GSG Representative
Karl Schmitt, Treasurer
Tamara Singleton
Aaron Skinner
2008-2009 Membership
Mattew Hoffman, President
Prashant Athavale, Treasurer
Anne Jorstad, GSG Representative
Aaron Skinner
James White
2007-2008 Membership
P. Aaron Lott, President
Michael O'Hara, Treasurer
Prashant Athavale, GSG Representative
Scott Olsson
Matt Hoffman
2006-2007 Membership
Bob Shuttleworth, President
Weigang Zhong, Treasurer
Jeff Heath, GSG Departmental Representative
Russell Halper, GSG Departmental Representative
P. Aaron Lott, Webmaster
2005-2006 Membership
Chris Danforth, President
Bob Shuttleworth, Treasurer
Joanna Pressley, GSG Departmental Representative
Qing Xia, GSG Departmental Representative
Suzanne Sindi, Webmaster
2004-2005 Membership
Danny Dunlavy, President
Chris Danforth, Treasurer
Stacey Nicholls, GSG Departmental Representative
Suzanne Sindi, GSG Departmental Representative
Bing Zhang, Webmaster